Active
Creative
Quests
Smart
Sports
Water
Auto-Moto
Military
Incentive: 2 days
Incentive: Russia
Incentive: world
Evening party
Peterhof Quest
Program
Quest Tour is an interactive tour with elements of a competition controlled via a smartphone.
In order to start the tour - you need to open the site and enter the password. You don't need to download and install the app. The quest tour works on any smartphone or tablet with Internet access.
The quest tour is perfect for team building in a new city. Navigation on the route is carried out using an online map, which displays the waypoints and the current location. The route of the quest tour is linear - from the starting point to the first location, then to the second, third, and so on to the finish point. We plan the route in the best way to be sure to visit the most interesting and beautiful places, as well as look into a couple of unusual exclusive locations. With each route, we tell the exciting story of this place.
At each location, the team is waiting for a question, the answer to which can be found directly at the location. These are interesting questions for attention to detail, ingenuity and imagination. The questions are not difficult, but if you still can't find the answer, you can use a few hints, or skip the question altogether and move on to the next location.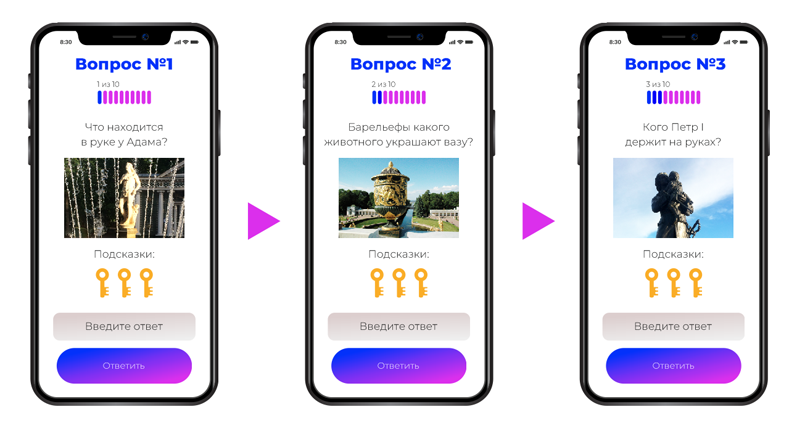 After the end of the quest tour, the result is reported: the total time spent and the number of hints taken. You can compare the results and determine the winner, but the main thing in the quest tour is team building, and also fun and useful time spent.
Peterhof Quest Photo
One of the great locations for team building Quest tour in the vicinity of St. Petersburg is the Lower Park of Peterhof. This is a very beautiful, well-groomed area rich in cultural objects. It is in the lower park that the famous fountains are located: the Pyramid, the Golden Mountain, the Whale and, of course, "Samson tearing the mouth of the pissing boylion", as well as numerous statues, the Marly Palace and the Monplaisir Palace . A big plus is the lack of vehicles and the high security of the territory.