Active
Creative
Quests
Smart
Sports
Water
Auto-Moto
Military
Incentive: 2 days
Incentive: Russia
Incentive: world
Evening party
Real Treasure Hunt
Real Treasure Hunt
A real search for ancient artifacts with a metal detector for groups of up to 15 people.
For the search, a promising place is selected - mainly ancient tracts (places where villages or farms were located, destroyed during the Patriotic War), within the framework of the current legislation. At the moment, such tracts are mainly fields, to varying degrees overgrown with forest. Their location is mainly in the south and south-west of the Leningrad region, about 100-150 kilometers from the city.
If it is technically possible, a relatively hard-to-reach place is selected and delivery is organized by off-road vehicles. Due to the growing popularity of treasure hunting in recent years, it is now almost impossible to find an untouched place, but the more inaccessible and remote the place, the fewer treasure hunters have been there, and, therefore, the higher the probability of a successful find.
For searching, simple and understandable entry-level metal detectors (Tesoro, Garrett, Fisher) are used. Before the start of the search, a detailed briefing is given on the use of the detector, general search rules and safety precautions. The search is conducted under the supervision of experienced specialists.
Real Treasure Hunt Photo
What can be found in this team building format:
Almost guaranteed: various forged utensils - horseshoes, axes, shovels, pitchforks, choppers, wheels, axles and other metal parts from carts and various mechanisms, cast-iron dishes, cast-iron parts of furnaces,
Very likely: several coins from various eras, fasteners, buckles, door locks, shell casings of all kinds, buttons, fragments of harness, fragments of kerosene lamps, scales, samovars and other household items,
Possibly: rare coins, pectoral crosses, various small castings, the above items are complete and in good condition,
If you're lucky: a treasure trove of gold coins :)
In addition, in order to guarantee the capture of the "trophy" by all treasure hunters, a certain number of coins are first dug up in a certain location, including two or three really valuable ones (for example, the silver ruble of the Russian Empire). Any find belongs to the one who saw it first.
Possible subsequent assistance in processing the finds, after which even simple things can become an interior decoration.
The best time for team building is spring and autumn, when there is no tall grass.
Teambuilding can be both an independent event and part of a trip around Ladoga, to Novgorod, Pskov, Upper Mandrogi and other places.
Finding Fossils
To search for fossils, you don't need a metal detector, but a small pickaxe. The most popular places are the Putilov Quarry, the Ragusha River, the Lava River Canyon. Here you can find fossilized representatives of ancient flora and fauna that lived in these places millions of years ago: the remains of plants and ferns, shells of mollusks, and if you're lucky, a real trilobite!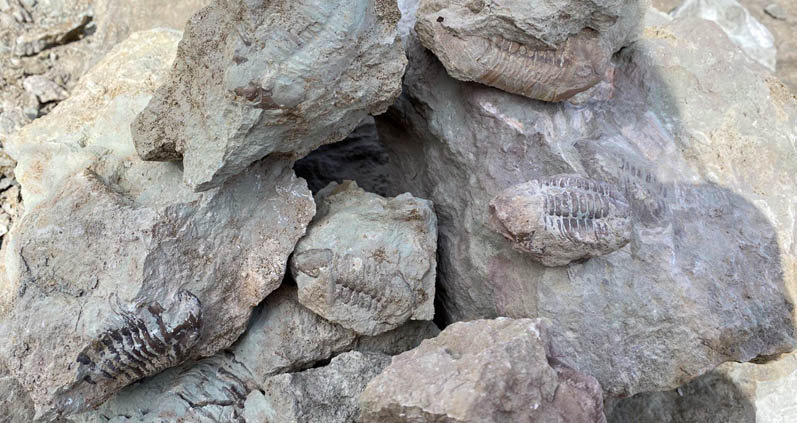 Search for meteorites
Searching for meteorites can be a very lucrative endeavor: real meteorites are in high demand, with a high price per gram. But finding them is not easy - they look like ordinary stones, and they are distinguished only by the fact that they are, in most cases, magnetic. Meteorites can be found with a metal detector, or, if you're lucky, with a regular magnet.