Active
Creative
Quests
Smart
Sports
Water
Auto-Moto
Military
Incentive: 2 days
Incentive: Russia
Incentive: world
Evening party
Rowing Regatta
Program
Teambuilding Rowing Regatta is a competitive competition of teams in rowing on large boats. Two or more teams can take part in the regatta, it is possible to organize alternate swims with summing up intermediate results according to the Olympic system, or one large regatta for all teams. Either way, it's a fast-paced race full of fun, splash, and competitive spirit.

The rowing regatta can be held on any body of water, including in St. Petersburg on Krestovsky Island. Depending on the wishes, the season and the reservoir for team building, the following are used:
Viking Boats
Large wooden boats that can accommodate 14 rowers and a helmsman. These are classic boats, similar in characteristics to ship's boats, equipped with "oar" oars with oarlocks.
Since there are two rowers on each bank of the Viking boat, each rowing with only one oar, for the best result it is very important to distribute the team so that rowers of approximately the same total strength are on each side. It is also very important to row synchronously and evenly in strength.
Feel like a real galley!
Dragon Boats
The dragon boat can accommodate 10 to 20 rowers, a helmsman and a captain. Unlike the Viking boat, the dragonboat is narrower, and the rowers use catamaran-type oars with a T-handle. With such an oar, you can row from either side of the boat, but for right-handers it is more convenient to row on the right, and for left-handers - on the left. Therefore, it is very important before the start to distribute the team in such a way as to balance the strength of the starboard and port sides.
Team building on dragon boats requires participants to be in sync and trust their teammates, as well as attention to the commands of the captain and helmsman.
SUP Giants
Giant SUP surfers that can accommodate up to 16 people at the same time! This is the most difficult type of vessel for a regatta, because in addition to synchronized rowing, the team needs to maintain balance! And although the giant SUP is much more stable than a single SUP, the giant SUP regatta is held only in the warm season, because falls into the water are still very likely.

The total number of team building participants is up to 100+ people, in one team - optimally from 14 to 20 people.
For teams taking a break from the race, "sea" team activities are organized on the shore - a competition in sea knots, a master class in sea navigation with a sextant, a competition on rowing machines and others.
The champions of the regatta receive well-deserved cups and medals, and all participants receive the honorable right to be called real "sea dogs"!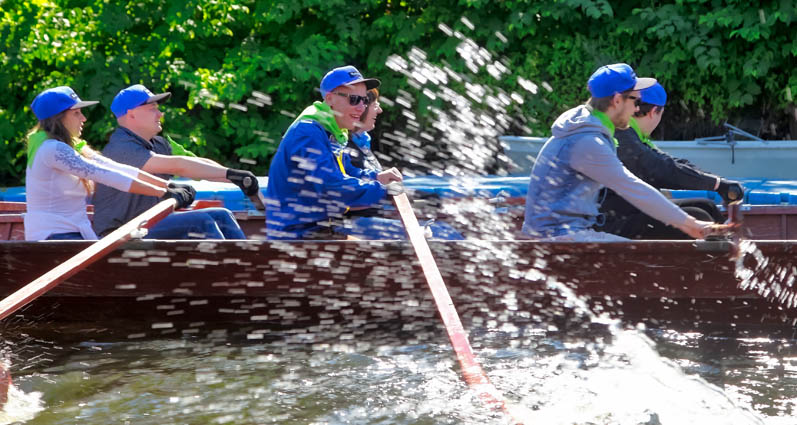 SUP-boards and SUP giants are easily transported, which allows corporate rafting on SUP and SUP giants along picturesque rivers. In such rafting there is no race and competition, but only beautiful nature and a long route, having overcome which, the team will rightfully say "we did it"!
Rowing Regatta Video